The Full Curriculum XXL of French4me.net is a comprehensive and complete language learning program designed to help you master the French language. This program offers a wide range of lessons and activities that cover all the aspects of the language, from grammar to pronunciation, and from vocabulary building to conversation skills.

The Full Curriculum XXL of French4me.net is divided into several main categories, including:

Grammar: Here, you will learn about the essential grammar rules of the French language, including verb conjugation, noun gender, and sentence structure.

Vocabulary: This category includes lessons on common vocabulary words and phrases, as well as topics like food, travel, and culture.

Pronunciation: This section will help you improve your pronunciation skills by teaching you the correct sounds and intonation of the French language.

Conversation: This category focuses on developing your conversational skills, so you can speak French with confidence in real-life situations.

With the Full Curriculum XXL of French4me.net, you will have access to a wealth of resources and tools to help you learn French effectively and efficiently. Whether you are a complete beginner or an advanced learner, this program is designed to meet your needs and help you achieve your goals.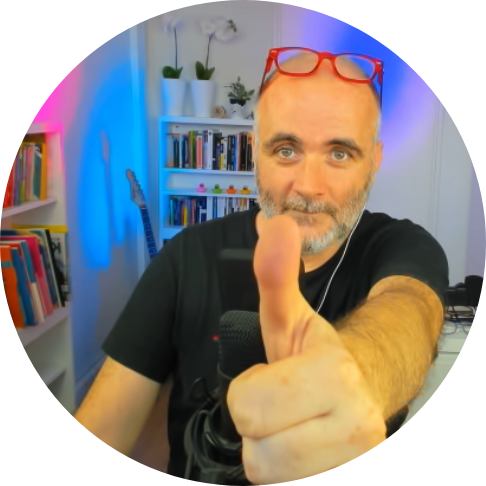 Bonjour, je suis Vincent Lefrançois, votre professeur !

"As a French teacher with over 25 years of experience, I have developed a wealth of material including videos, audio files, e-books, and apps to aid in the learning process of French. My goal is to provide students with the tools to learn French efficiently and effectively. My French learning videos which have been tailored to the needs of the learners have been viewed more than 500 million times by millions of viewers form all over the world and they got me over 1 million subscribers on my different YouTube channels.
My online students gave a lot of feedback to create lessons that would be the best and would assure them to learn French in an efficient and relaxed manner.
Vincent Lefrançois